We're here for you.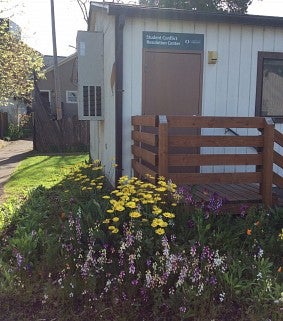 The Student Conflict Resolution Center is a private, impartial, and off-the-record problem-solving resource for effective communication, collaboration, and conflict navigation. We assist and support individuals, groups, and student organizations through conflict in identifying and exploring options, facilitating conversations and decisions, providing dispute resolution services and appropriate referrals as necessary.  Our goal is to facilitate positive change through dialogue and across differences, enhancing student relationships and partnerships.
The SCRC is committed to ensuring that its office is accessible to all members of the UO community. For this reason, our space is wheelchair accessible, free of fluorescent lights, and a fragrance-free zone. Please contact the SCRC Director if you have a building accommodation need that is not mentioned here and they will be glad to make the necessary adjustments.
---
We are:
Private
The SCRC is a private resource and shall not disclose the identity of visitors or communications unless permitted to do so, except as required by law or university policy. To ensure privacy, we do not keep permanent records. Notes, emails, and documents containing identifying or sensitive information will be routinely destroyed, including any materials provided by participants.
Email is not considered a private form of communication. Visitors should communicate sensitive information in person or by telephone.
Impartial
SCRC staff serve as neutral intermediaries between people and parties. SCRC staff serve as neither an advocate nor an apologist for either the university or its constituents. SCRC staff offer support, resources, and problem-solving assistance to all students. SCRC does not make determinations about the course of action or the outcome of any case.
Informal
As an informal resource, we offer voluntary, off-the-record services for all university students, groups, and organizations. We keep no record of service and do not create formal agreements between parties. We do not serve as an office of record and notice to the SCRC does not constitute notice to the university. Students who wish to put something on record will be directed to the appropriate resource.
As an informal resource, visitors cannot compel SCRC staff members to produce documents, testify, or participate in any formal process other than restorative justice. SCRC does not adjudicate, impose remedies or sanctions, overturn administrative decisions, conduct formal investigations, or change university policies or rules.
SCRC staff members do not provide any legal or financial advice or psychological counseling.
Formal
Most of our services are not formal. We only offer Restorative Justice as an official resource in partnership with the Eugene Municipal Court and the Office of Student Conduct and Community Standards as an alternative approach to student conduct violations. It is important to note that RJ is an optional resource, as is not mandated by university sanctions.
Documents will be kept on file for the year to serve as the completion of the process. The SCRC cannot guarantee completion of the program, and it is up to the participant to fully complete the process with the Eugene Municipal Court.
---
Why the SCRC?
Do you need a private sounding board to talk through an issue or concern?
Are you interested in exploring more effective ways to communicate?
Are you seeking a more collaborative approach to decision-making and future planning?
Are you seeking flexible ways to navigate your conflict?
Do you want to explore problem-solving options for your concern?
Are you seeking an impartial perspective?
Do you want to be proactive about an anticipated issue?
Are you interested in other university resources?
Do you have questions about university procedures and practice?